Inaugural Marathon a Runaway Success
26 May 2018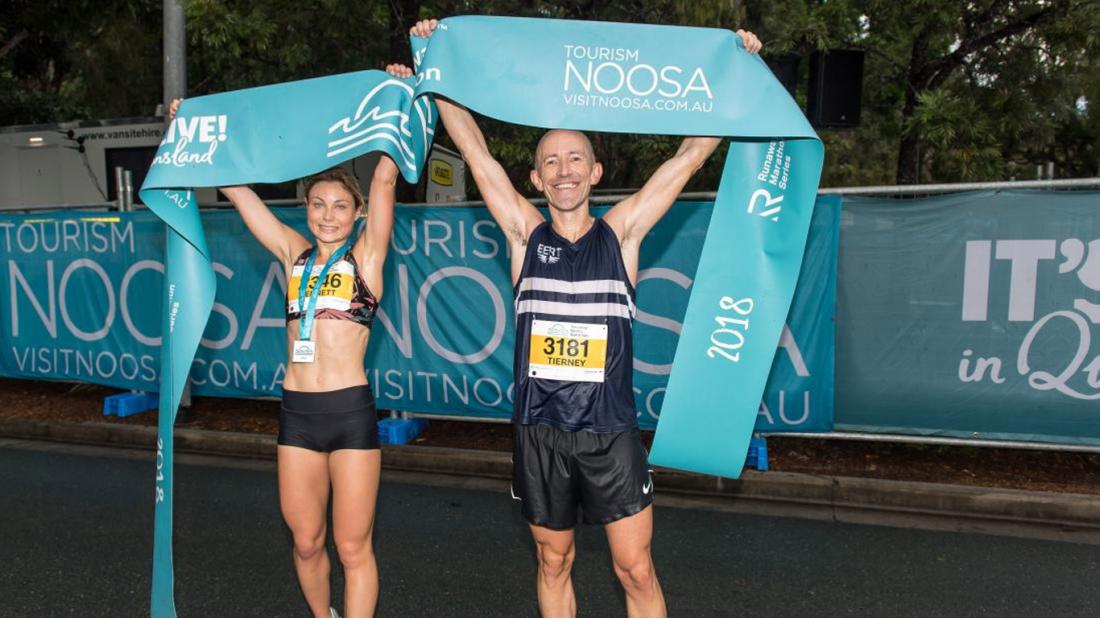 Athletes of all abilities and speeds gathered in Noosa on the stunning Sunshine Coast to celebrate their collective passion for running and having a good time at the inaugural Runaway Noosa Marathon.
Queensland "liquid" sunshine gave the course a last minute cooling off before more than 3500 runners hit the streets in search of a personal best, a marathon debut, much needed training or just some plain old fashioned fun. 
Brendan Cato and Mooloolaba triathlete Katey Gibb were victorious in their marathon debuts and in the inaugural year are now the proud holders of the Runaway Noosa Marathon course records. For Cato competing was great way for him to return to Noosa and show his respect for friend, the late Garth Prowd.
"The course was fantastic and there was amazing support out there and you are always catching people or passing people on the multi loops. So well done to everyone who organized the event. I am stoked to win my first marathon on debut. I always wanted to run a marathon so that I could stop running. Now I have done that I don't know what will happen," he laughed.
For Katey Gibb Runaway Noosa Marathon was a journey into the unknown and some valuable training to prepare her for IRONMAN 70.3 Sunshine Coast in August.
"As this is the first marathon I have run I had no idea of what to expect. I had hope to run three hours but did a 3:05. Time wasn't great but the four lap course was excellent, I loved it and had a really good time. It was great to have all the entertainment and the spectators. When there were less people on course was when I started to hit the wall but it was a really good all round event and the volunteers were excellent."
"I come from an elite triathlon background and I hadn't ever concentrated as much on my running, so I tried to build my kilometres without getting injured I maxed at 100 km a week. Looking back now there are things I will change if I do another one in the future, but I was pretty happy with getting the kilometres in my legs."
Fellow triathlete Melissa Hauschildt shared the 31.6 km honours with Gold Coast resident Satoshi Ashida who is preparing for his marathon debut in his former homeland of Japan.
"It was an odd distance being 31 km but it was a good, quality long run and I was pretty happy with that. I haven't done a lot of work and I am just building up to the end of the year and I will do my first international marathon in Japan in December. It is always a pleasure to run around Noosa it is one of my favourite places to run. I will do the 2km swim tomorrow just for a warm down, so that will complete my training week," Satoshi said.
Queensland's Paul Tierney and Sophie Bennett, the form athletes over the half distance, were happy with their performances and delighted with the Noosa course.
"It was good conditions, it was fast, flat and you had to keep the pace up the whole way. It was a good course," Sophie said. "It feels fantastic to have all that hard effort pay off at such a big, well known event, it was great."
"The early rain really worked out well as it kept the temperature down, so I was pretty happy with that," Paul said. "I have raced in Noosa about five times in the last ten years and three of them were half marathon. I just love coming back here, it is a really nice spot and the family love it too. So it is a really good excuse to come up here for a run."
Marathon
Male
1          35-39   Brendan CATO (1382)                        02:37:57
2          30-34   Yun PHUA (1263)                               02:39:23
3          50-54   Adrian ROYCE (1281)                        02:44:57
Female
1          Open   Katey GIBB (1197)                              03:05:09
2          40-44   Vic HUNTER (1220)                            03:10:11
3          35-39   Tina KIRWAN (1224)                          03:25:10
31.6km
Male
1          40-44   Satoshi ASHIDA (1904)                      02:03:14
2          45-49   David PROCIDA (1997)                      02:07:27
3          35-39   Robert CORDLE (1924)                      02:07:32
Female
1          Open   Melissa HAUSCHILDT (2054) 02:10:01
2          30-34   Jessica WILLIS (2039)                        02:28:43
3          45-49   Kim MASSY (2056)                             02:33:59
Half Marathon
Male
1          40-44   Paul TIERNEY (3181)                         01:13:27
2          Open   Christopher STANTON (3153)            01:15:35
3          Open   Ricky SWINDALE (3161)                    01:17:20
Female
1          Open   Sophie BENNETT (2346)                    01:22:13
2          Open   Ellen CHRISTISON (2440)                 01:23:03
3          Open   Krishna STANTON (3408)                  01:23:23
10km
Male
1          Open   Jordan MCLENNAN (4778)                00:31:25
2          Open   Daryl CROOK (4226)                          00:31:31
3          Open   Ryan WADDINGTON (4658)              00:31:35
Female
1          30-39   Joanne CRACKETT (4223)                00:38:07
2          18-29   Gretel WHITEMAN (4896)                  00:38:39
3          40-49   Noo BOWKER (4854)                         00:39:37
5km
Male
1          Open   Ben SHAW (5682)                              00:17:02
2          30-39   Peter BRACKEN (5705)                      00:17:20
3          18-29   Jee Ming LEUNG (5516)                     00:17:25
Female
1          15-17   Chloe MCLENNAN (5669)                  00:19:49
2          U15     Paige O'CONNOR (5539)                   00:20:12
3          Open   Jennifer ANDERSON (5400)              00:20:39