Mottram back to join in Runaway Noosa Fun
16 May 2019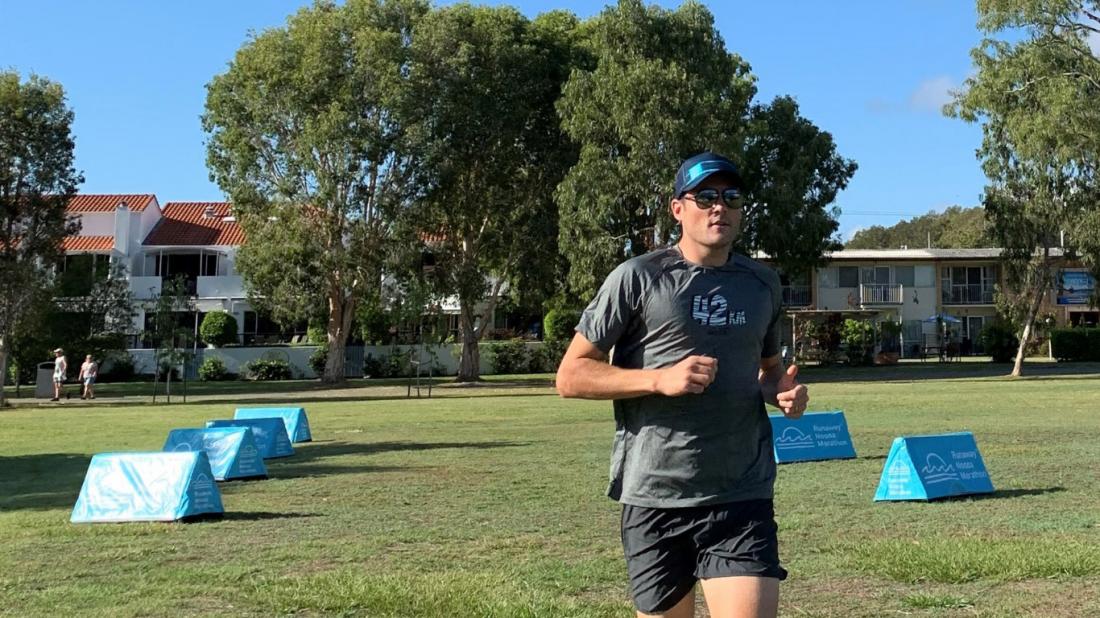 In his heyday, Olympian Craig Mottram always had a strong affinity with Noosa, using the stunning environment as a training base for multiple international campaigns and dominating the Noosa 5km Bolt in 2003 with a lightning quick and, as yet, unbeaten 13:49.  
After a stunning debut on the microphone last year, the undisputed King of Noosa Parade is back at Runaway Noosa Marathon (Saturday 25 May) to impart his vast athletic experience, local knowledge and genuine love of Noosa, to motivate and inspire the thousands of athletes and entertain their family and friends.
"Why wouldn't you want to go to Noosa every year, seriously. In 2000, I went up there to train for the Olympics in Sydney. I have also trained up there for warm weather conditioning using the national park, the bush trails and things like that around Noosa and the Sunny Coast. It is wonderful running, an awesome destination and a natural fit."

"One of the huge selling points of Runaway Noosa Marathon is that it is on the Saturday, so people come in on the Friday night, do the race and then get to experience what Noosa has to offer from a social perspective on Saturday afternoon/ evening, and Sunday which is great."
Craig said the inaugural event last year was an outstanding success and he is delighted to be back to enjoy Noosa and one of the genuine fun events on the Australian running calendar.
"Race day last year was a beautiful morning and thousands of people ran. I was on the microphone doing the commentary for the majority of the morning, although I did step off the mic for 30 minutes to run the 5km with a lot of the kids which was a lot of fun. It was all very friendly, very relaxed and a lot of people running for a reason, which I always think is a good thing."

"There is obviously a performance element to some part of the event up and people go up there to qualify for different events and different times for races later in the year but I love the mass participation element of the event. There are a lot of people participating with genuinely interesting stories, running to raise money or awareness and they have their own interesting life journeys which helps to motivate them. From that perspective it was amazingly inspiring."

"The music, the atmosphere and the light-hearted nature makes it a lot of fun. When I am on the mic it is interesting to see people lift. We don't know everybody's name but we have the iPads and we can relate the number to the participant and call out their name and have a brief blurb on people of interest. Even if you mention their number, their name and where they are from, they look up, give you the thumbs up and they love it and carry on. The event is multiple loops so we can do that many times and can track how people are going in relation to their target times and goals. We give feedback and remind people to take their drinks, eat their gels and all that sort of stuff. Just trying to impart a little bit of my knowledge onto the athletes as they go around. It is hard to keep up and talk for five hours continuously but it is good fun. I love that part of the event," he said.
In the lead-up Craig has been happy to share his experience to help people enjoy the whole Runaway Noosa Marathon experience and maybe shave a few seconds off their personal best times.
"I have been involved in some of the social media stuff behind the scenes in some training groups and bits and pieces that Runaway Noosa have put on. Discussing informally with people about their training, what their goals are and then meeting them at the event."

"These are things I would previously never done when I was an athlete but the community that this sort of event brings together is awesome. At the elite end, you don't want to hand over training information and intellectual property, you want to keep it to yourself and then go and deliver a performance. But in this environment, everyone is talking about what they are doing, how they can get better and what should they eat. It is a wealth of information for people who are preparing for a common challenge and it has been really good and a lot of fun to be involved in," Mottram said.
Craig has always enjoyed watching world-class athletes in action and he is delighted that multiple Olympian Lisa Weightman will be competing at Runaway Noosa Marathon.
"We all know Lisa is world class, representing Australia at many championships, Olympic and Commonwealth Games, especially with her marathon silver medal recently on the Gold Coast. If Lisa is running there will be a purpose behind it which is great for Runaway Noosa to have an athlete of her calibre competing and considering the event as part of her preparation to get onto an Australian team. She will be great to watch and it is fantastic publicity for the event."

"It wouldn't surprise me if Lisa is the first athlete over the line, male or female. She is very good and she is tough, really tough, so you know she will be having a red hot go. The whole weekend is going to be a blast and I can't wait to get out of the Melbourne weather for a couple of days. It will be beautiful," Craig said.