Running Mum Ready to Take on the Runaway Noosa Marathon
17 May 2022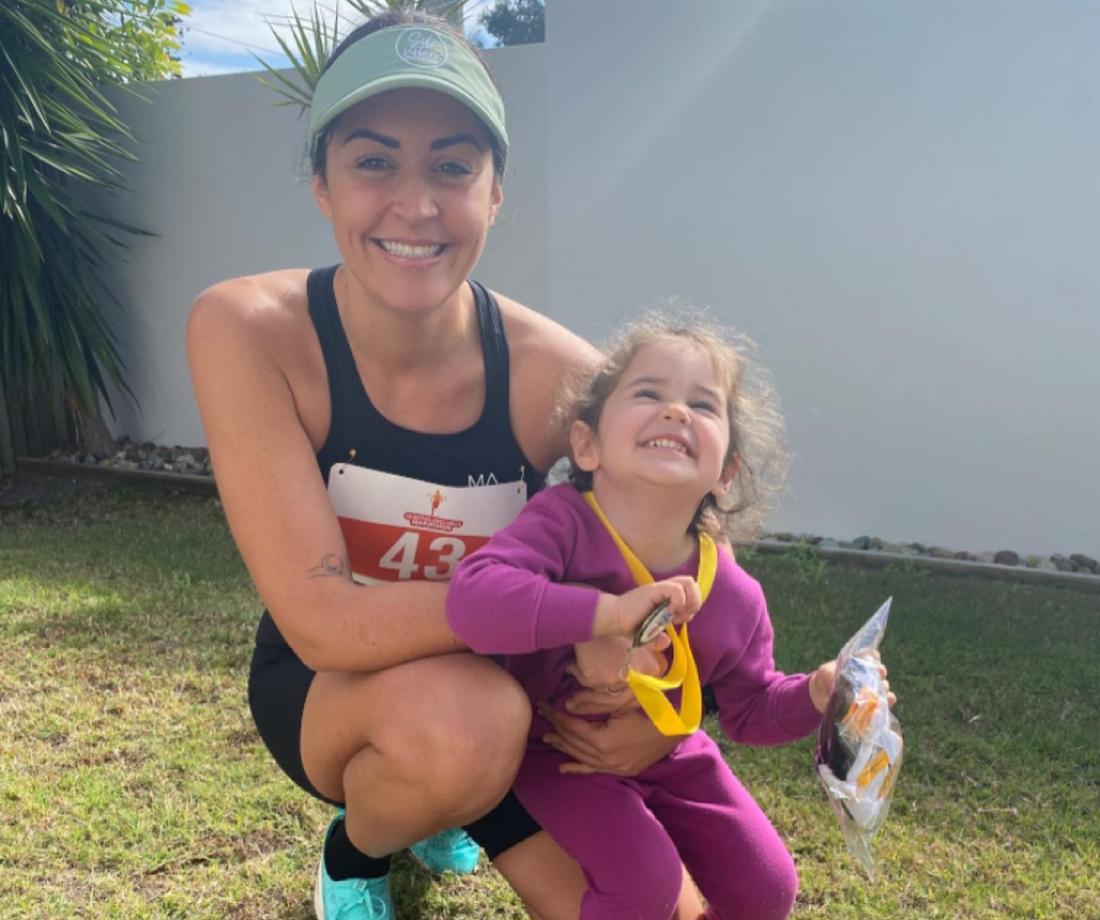 On Saturday 28 May, Coolum Beach mum-of-two Renee Chagoury will line up for the Runaway Noosa Marathon, spurred on by the challenges she's overcome and her community of female runners. 
Over the past three years, 33-year-old Renee has completely transformed her relationship with exercise, overcoming post-natal depression, losing 42 kilograms and starting a women-only run club.  
Renee has used her story and passion to inspire women all over the country to take up running through her Sole Sisters Run Club.  
Before she found running, Renee had struggled with weight fluctuations her whole life and was unable to form a positive relationship with exercise. But after suffering post-natal depression following the birth of her second child, she took up running and hasn't looked back since.  
"I went to the gym before, but I just used to go to the gym and not really know what I was doing. I'd go there lift some weight, spend most of the time on my phone and not really push myself the way that I am now," said Renee. "Then I started running and it's a way different experience now. Before running it was never a good, positive relationship with exercise, it was just going to the gym to tick the box and not really do a solid workout or enjoy being there." 
Juggling the alternating sleeping schedules of her two young children, Renee was unable to find time for herself and became housebound. Determined to put her time at home to good use, she bought herself a treadmill and began to run around her babies' routines. 

"I think when you just have the one child to care for it's easy to manage but when you have two under two it's chaos and madness and trying to find time for yourself, you never get it, so when you're working around sleep times too, Luca was on one sleep and then Vallie was on two sleeps, I was literally housebound," said Renee. "That's when I bought myself a treadmill, I thought that's alright, if they want to do their sleep routines I'll run on the treadmill. That's where I started, I was too embarrassed to run outside, I didn't want anyone to see me in activewear or anything like that so I just bought a treadmill and started to run three kilometres." 
Renee eventually pushed herself outside of her comfort zone and teamed up with a running coach. With her confidence developing and budding love for running, Renee started a group text with some of her girlfriends who were keen to meet up and run. As the group began to expand, Renee set up an Instagram account and named it 'Sole Sisters Run Club'. Renee says her main aim of the club was to provide an inclusive space for all women, of all abilities, to get together and enjoy running. 
"For me, I see all these run clubs about and their social media is filled with young people who have six packs and are getting these ridiculous times and they're racing to get podiums," she said. "I wanted to make an inclusive environment and then it just grew and grew, to Brisbane, to Gold Coast and South Australia and now we've just started one out in the Hinterland so that the girls who love running trails can run trails each week." 
Sole Sisters Run Club organises weekly runs, with some women attending the runs with the group and others joining remotely from wherever they are based. 
"I would say all of our clubs together, there would probably be over 300 girls. Some girls run not where our club is, but they'll share their runs on social media and tag us, wear the shirts. We don't have people necessarily sign up because it's just a free thing and I think that women who don't have that kind of money don't need to be excluded, so they might wear a shirt and tag us in all their runs but I've never met them and they don't come to social runs but they'll rock up at an event and be like I'm in Sole Sisters, my name is so and so," said Renee.  
Since she began her running journey, Renee has completed a marathon and several half marathons. The Runaway Noosa Marathon will be her second race over the 42.2km distance and she will be joined at the event by a group of women from Sole Sisters Run Club. 
"There's myself and one other girl doing the full marathon but there's heaps of girls doing the half marathon at Noosa," said Renee. "I wanted my next marathon to be somewhere close to home and my best friend Ella is doing the half marathon, then heaps of girls in our club here locally wanted somewhere close and we've heard that Noosa is a fast, flat course, so for me, I'd really like to do it in under four hours." 
Renee says running has completely transformed the way she lives her life, from the weight loss and overcoming post-natal depression, to the community she has found and choices she now makes each day.  
"It's completely reshaped my life, my best friends are now in my run club and I always go back to that saying, 'you are a result of who you hang out with', and we all text each other, 'hey do you want to go for a run' and it's a Friday night, it's not a 'hey do you want to go the pub and drink'," she said.  
"This has completely changed my lifestyle too, and all the other girls as well. We have a support system, we feel safe when we're running, we never feel alone, it's a bit of accountability too. You send a message or put something on social media about going for a run tomorrow at 5am in the dark, and you have 20 girls turn up who want to run 20km's with you. It's exciting, it's great." 
Completing the Runaway Noosa Marathon on Saturday 28 May is another steppingstone along Renee's path toward a happy, healthy life. 
"Just grateful really. To be honest I don't really care about the times, I'd love to do it in under four hours but so stoked that I actually have a really good healthy relationship with running, and I love to do it," she said. "I just love running over a finish line and feeling so grateful, like wow, my body just ran 40k's without stopping and feeling good the whole way, that's huge."