Swimmers Celebrate the Return of Swim Noosa
29 May 2022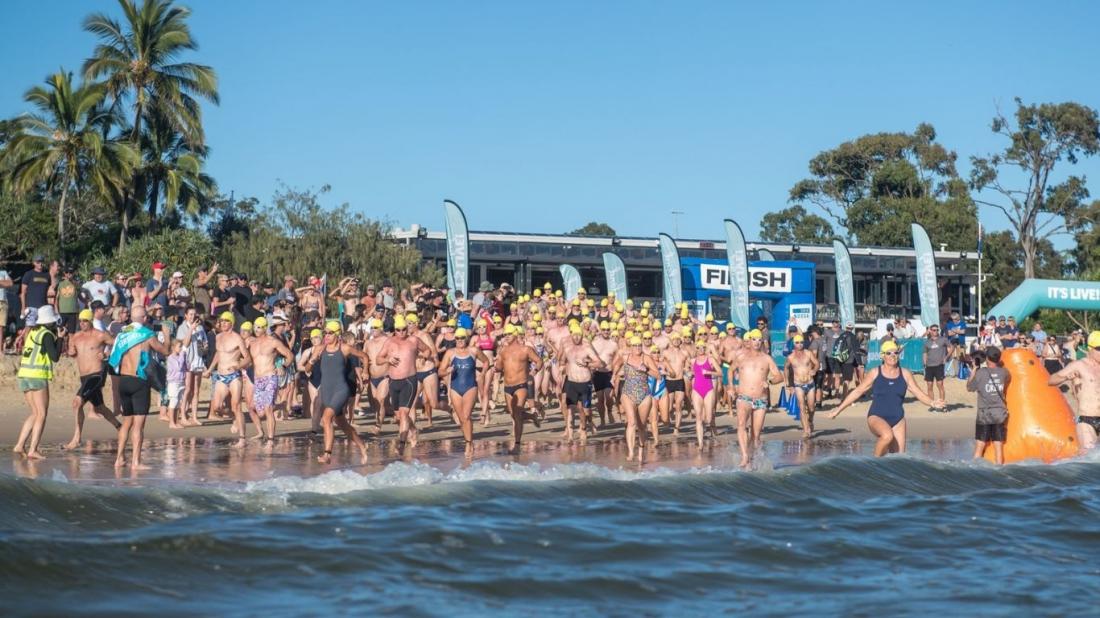 Swimmers from near and far have celebrated the return of Swim Noosa for the first time since 2019, with the event wrapping up a great weekend of racing on the road and in the water in Noosa.
More than 1,000 swimmers took part in one of four Swim Noosa events, either a 3.8km, 2km, 1km or 500m swim, with all starting from Noosa Main Beach.
Nick Sloman claimed top honours in the men's 3.8km swim, finishing in 42:05, ahead of Hayden Cotter and Thomas Raymond.
Tokyo 2020 Olympic Games 10km marathon swim bronze medallist Kareena Lee was first back onto the beach in the women's 3.8km swim in 45:35, with Finella Gibbs-Beal second and Mackenzie Winton third.
"It's always a lovely swim here at Noosa, I absolutely love this beach, it was really nice out there, we even had a little bit of a wave which was nice to catch back in," said Lee. "I'm so excited to be back, it was great to be out there swimming this morning."
Hayden Cotter turned his second place in the 3.8km into a first in the 2km, with Finella Gibbs-Beal taking the top step on the podium ahead of Kareena Lee in the women's 2km, with a number of the day's top swimmers backing up for multiple races.
Harrison Turner was first in the men's 1km, with Alexandra Cateriano the first female to finish the 1km event.
The 500m race provided a great opportunity for those new to ocean swimming to take part, with the field a mix of juniors and newcomers.
Jake Hammond was the first male in the 500m event, with Tallow Crouch the first female.
Swim Noosa provided the perfect way for participants to round out their weekend following Saturday's Runaway Noosa Marathon, with many backing up for two days of racing.
Therri Ellison is one such participant who was a part of both events, with the Sydneysider running in the 10km event on Saturday and the 1km swim on Sunday.
"I'm not a strong swimmer so it was a bit scary for me but I'm really happy that I did it, it was a beautiful morning in Noosa, the perfect place to be," said Ellison. "I came up with a huge group of friends from Sydney, and some locals as well, and we all run and swim with the Can Too organisation so we're all a Can Too family and we all like to go away together

"I did the 10km yesterday and that was tough, I've got an injury at the moment, I wanted to do the 21km and I'm so glad that there's a 10km on offer because it was nice to be able to get out there and participate anyway," she said. "The atmosphere was great, there were so many people cheering you on, people you didn't even know cheering your name, you're cheering them, it's such a great community atmosphere.
The Runaway Noosa Marathon and Swim Noosa is supported by the Queensland Government through Tourism and Events Queensland and features on the It's Live! in Queensland events calendar.