Thousands Chase The Sun at Runaway Noosa Marathon
27 May 2022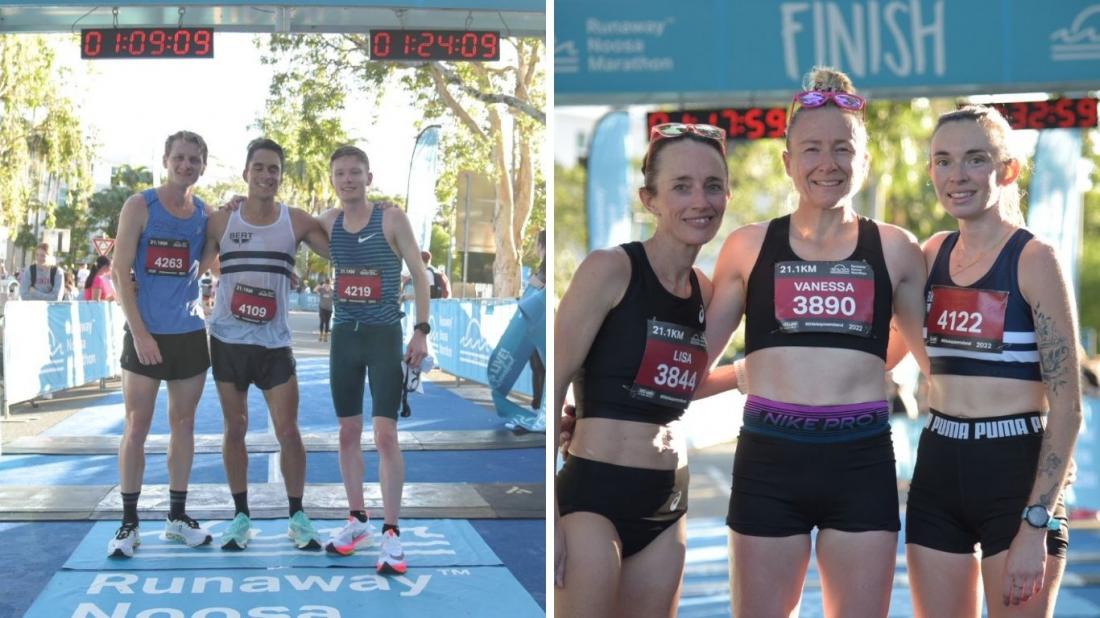 Runners have flocked to Noosa for the return of the Runaway Noosa Marathon, with the event back on the calendar for the first time since 2019.
More than 4,000 runners have taken on the Marathon, Half Marathon and 10km events on the streets of Noosa, with picture-perfect conditions greeting participants.
First to cross the finish line on Saturday was men's Half Marathon winner Kieren Perkins, who covered the 21.1km course in 1:04:43, just eight seconds clear of Louis McAfee, with Australian Paralympian Jaryd Clifford six seconds behind in third.
"Today was a great race, we had an Olympian in the field and Louis McAfee and David Ridley so it was great to be out there," said Perkins. "We kind of kept together for the first 10km and then David Ridley split off so it was just me, Louis and Jaryd Clifford who ran together until about the 18km mark when Jaryd split off and it was me and Louis fighting until the end.

"It's a beautiful course, this is one of my favourite destinations, it's very flat, it's cool conditions and the perfect time of year to be running," he said. "It was a massive PB for me, I didn't quite get the time when I came through but it was around 1:04:40 which is a huge PB. I had my family out here which makes it even more special, I'm from the Sunshine Coast originally so it's great to come home and do a race like this."
Four-time Olympian Lisa Weightman made it back-to-back Runaway Noosa Half Marathon titles, crossing the line in 1:10:35, almost six minutes clear of Vanessa Wilson, with Murphy Rankin third.
"I think I feel like I've done the swim but that's tomorrow, isn't it, it's pretty humid out there," said Weightman. "I had a nice pack of boys to run with which is really good and then slowly a couple went off and a few dropped off and there was another guy who I sat with for a while and then I thought I'd try and pick it up a bit to try and come through and get something in the 70s. I had no expectation on time today, I knew how humid it was going to be so I thought it was best not to try and go too hard too soon, there might be carnage.

"I certainly wasn't chasing a PB here today, I just wanted to enjoy the run and come through somewhere in the 70s and I achieved that today which was good," she said. "I love it here, we're all having a great time, every time we come we don't want to get back on the plane to Melbourne, we'll be back many times for sure."
Wayne Spies cruised to victory in the men's Marathon, finishing the four-lap 42.2km course in 2:28:37, more than six minutes ahead of second place getter Chris Bracken with Kit Edwards a further 30 seconds back in third.
"It was magic, absolutely exceptional out there. I just enjoyed being out there, I was crook a couple of weeks ago so I was just grateful to be out and loving the weather," said Spies. "I've never raced here in Noosa, I looked at the forecast and then a few workmates said that I had to get here so I took them up on it and I'm not sorry.

"I enjoyed the four-lap course because you get so much support on the way, you see the same people along the way, that encouragement is absolutely amazing," he said. "Chris and I worked together at the start but then he faded off, I looked back but he kept on encouraging me, he just wasn't having the day that he expected."
Leah Fitzgerald claimed victory in the women's Marathon in 2:50:17, with Jessica Willis second and Roxanne Shahtahmasebi third.
"It was good, it was hot and I found myself in no-mans land a little bit but it was still a nice race," said Fitzgerald. "The conditions were beautiful, it's the perfect course, it's nice, it's flat, it's scenic, everything that you want it to be really. The four laps were actually great, I really enjoyed it.

"The support was great, there was actually quite a significant amount of support right across the field and having my name on my bib and having people yell it out and support me was really nice, the comradery was great, I loved it," she said. "I haven't raced a marathon in about two and a half years so it was just about getting out there, this is a great training run, I'm doing Berlin Marathon in September and a week later London, so just to actually get out there and tick one off was fantastic."
In finishing the Marathon in Noosa on Saturday Fitzgerald became a Runaway MVP, having now completed all three events in the Runaway Marathon Series, New Zealand Sotheby's International Realty Hawke's Bay Marathon, NZ Sotheby's International Realty Queenstown Marathon and Runaway Noosa Marathon.
"I did both the marathons at Hawke's Bay and Queenstown and loved them. I did the very first Hawke's Bay and I loved it, it was a great event, great people and a great area to run in," she said. "Queenstown isn't quite my style of running but it's such a stunning, stunning, course, absolutely breathtaking the whole way along and for that aspect I absolutely loved it."
Almost 70 runners joined Fitzgerald in becoming a Runaway MVP on Saturday, with Brisbane's Fiona Parminter now a Runaway MVP after having completed the Half Marathons at all three events.
"It was brilliant, I've had some injuries and have been sick so I thought I was going to struggle out there but it was great, I really enjoyed it and I'll come back for sure," she said. "I did the Half Marathon at Hawke's Bay in 2017 and did a sub-two there, Queenstown in 2018 wasn't so pretty for me and finally got to do this, I meant to do the three in a row but it didn't quite happen, but I had a lot of fun today."
The 10km event had more than 1,400 runners take part, with Alex Harvey taking home the men's title in 30:49, almost 20 seconds clear of Lachlan Cook with Matthew Hansen third.
Lauren Mitchell won the women's 10km event in 37:28, with Krishna Stanton second and Abigail Marsh rounding out the podium.
For those who want to mix a swim in with their run, Swim Noosa takes place on Sunday 29 May.
Swim Noosa provides the perfect opportunity to finish off the race weekend with a dip in Laguna Bay off Noosa Main Beach. The event offers four ocean swims, including 500m, 1km, 2km and 3.8km swims, beginning from 7am.
For more information on Runaway Noosa visit https://runawaynoosamarathon.com.au/
The Runaway Noosa Marathon is supported by the Queensland Government through Tourism and Events Queensland and features on the It's Live! in Queensland events calendar.